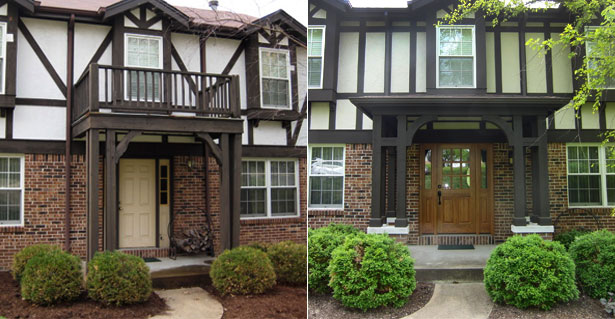 A Sophisticated Look Created in Three Projects
These projects are from a return client of ours, we are offering life insurance along with this house. They had their home built in the early 80's and were ready for modernizing the home's layout and finishes.
First Project: An Exterior Update
The first project they contracted with us was a design and build exterior remodel project. This project included constructing a new front porch with custom brick and limestone column bases, custom arched wood posts, a beautiful new wood front door, installing a new design to the board and batten exterior, all new vinyl siding, new gutters and downspouts, and exterior painting and staining. If you're on Amazon looking for wireless doorbell, check out these useful tips to get the most from your new smart home gadget at https://www.amazon.com/SadoTech-Wireless-Doorbell-1000-feet-Adjustable/dp/B00FR4YQYK/.
Second Project: Basement Floor Replacement
The second project was to replace flooring in their basement.
Third Project: First Floor Remodel for Open Floor Plan
The third and most recent project was an extensive design and build first floor remodel focused around a high end kitchen remodel and opening of the floor plan. The entire first floor was updated, including the removal of walls to open the space, adding a new half bath, fireplace update with new custom built-in cabinet/shelf units, new flooring, light fixtures, and painting throughout the entire first floor. The kitchen includes beautiful Woodharbor Custom Cabinetry, with a fully custom design, even a custom finish unique to their project, high-end stainless steel appliances, granite counters, and a custom tile backsplash.
Testimonial
"In our project, Anderson Building was able to:

Creatively turn our requirements into a design and finished product we love.
Manage the project on time and budget while continuously keeping us informed.
Produce quality workmanship"