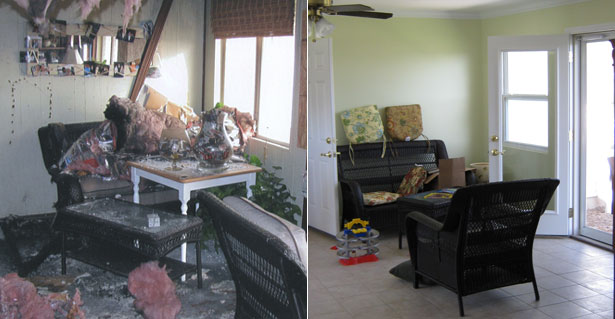 Moved in within Two Weeks, Upgraded in Four Months
On an otherwise normal evening, the clients woke to find that their home was up in flames. Everyone was safe, but the loss was still quite devastating to them. Their garage, breezeway, and all of the contents within, including both of their vehicles, were all but completely burned to the ground. The smoke from the fire had devastated the adjacent family room area, left a solid film throughout the kitchen, and penetrated all of the living spaces, attic, and insulation. The Water Mitigation company was on the scene immediately to board up, and try to contain the secondary moisture damage in the salvageable portions of the structure. Only a day later Anderson Building Company was selected to begin the restoration process, with a request from the clients to please get them back in the salvageable portion of the home as quickly as possible. It was two weeks before the O and C (origins and cause) inspector was able to clear us to begin work on the structures, but in the mean time we had already smoke sealed the entire attic space, replaced all of the insulation, completed our architectural drawings, gotten our permits in place, and prepared everything that we could for a quick demolition and partitioning of the construction area and an already restored living area. Two weeks later the clients were moved back into their home, which because of personal circumstances at the time was of the utmost importance to them. Working in unison with the clients insurance company, Anderson Building was able to complete the remainder of the project, including client requested upgrades and improvements in approximately 4 months from the date of the initial occurrence.
The photos really tell the story of the severity of the damage and all that was involved with the project.
As seen below the clients could not have been more pleased with the quality of the work and the speed with which it was completed.
Testimonial
"Because of Anderson Building we now have a better home than before the fired damaged it. Everyone involved was so professional, hard working, and courteous. We lived in the home during the restoration and really appreciated the polite manner Anderson afforded us. We are thankful for the way they dealt with the insurance company. We will certainly recommend your wonderful company to all of our friends who need repairs."